---
If you want to buy antivirus software, Kaspersky AntiVirus is worth putting on your short list. It gets 24 updates per day to keep the "window of opportunity" small, and has very good signature-based detection combined with proactive protection features. They definitely earn what they're charging for it. It's compatible with 64-bit and 32-bit Windows, including Windows Vista. In the United States, you can get a 3-license package of Kaspersky AntiVirus 7 from Frys.com for a good price, assuming you have uses for the extra two licenses.
---
If you want a free antivirus for non-commercial home use, then AntiVir PersonalEdition Classic is also very good. Be aware that this version of AntiVir doesn't have the option to autonomously delete malware that it detects with its real-time protection, making it a less-than-perfect choice in the hands of inexperienced users (kids, spouse, friends & roommates). If you buy the Premium version, which is very reasonably priced, you can have it automatically kill threats, and you get spyware/adware protection, scanning of email attachments and access to their fast update server, too. If you can't quite afford Kaspersky, then AntiVir PE Premium is a great budget pick.
---
Configuring Kaspersky AntiVirus for peak protection
This section is getting a re-write soon, because Kaspersky has released version 7 and revised the Settings panels. For the moment, I'll leave the old content for the free "AOL Kaspersky" (which is not available anymore) so you can see some general configuration ideas.
After installation, you'll have an icon in your System Tray.

Right-click it, choose Settings, and enable the Potentially dangerous software detection: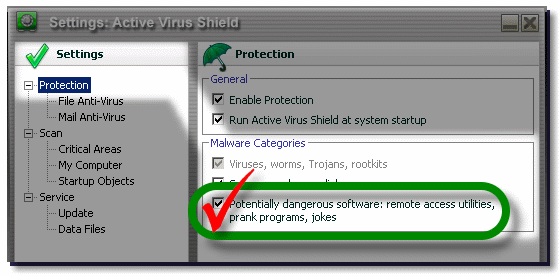 Also go to Scan > My Computer and enable the daily scan, as shown below. You can hit the Change button and pick a convenient time, such as the middle of the night.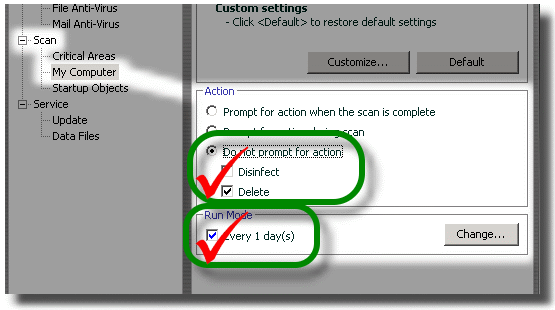 In the Settings panel, go to Service and configure the updater. In the picture below, I set Kaspersky to check for updates every 15 minutes. If this sounds paranoid, realize there are some malwares that emerge at the rate of 30+ new versions per day.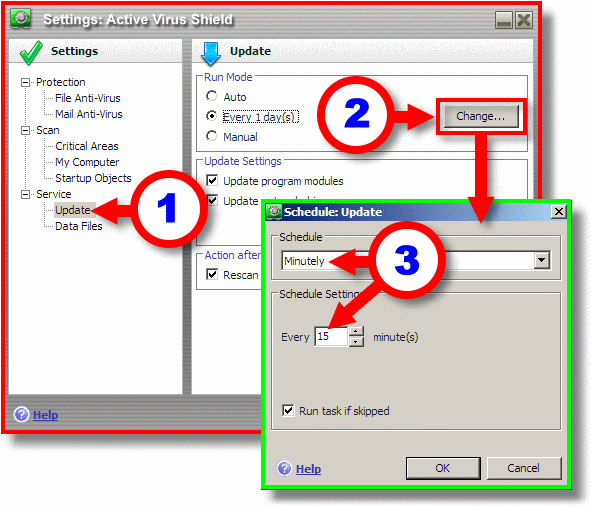 You know how they won't let you take liquids on airliners anymore? It's an arbitrary defense against liquid explosives. You can do something similar with bad types of email attachments in Kaspersky Antivirus. Refer to the picture below: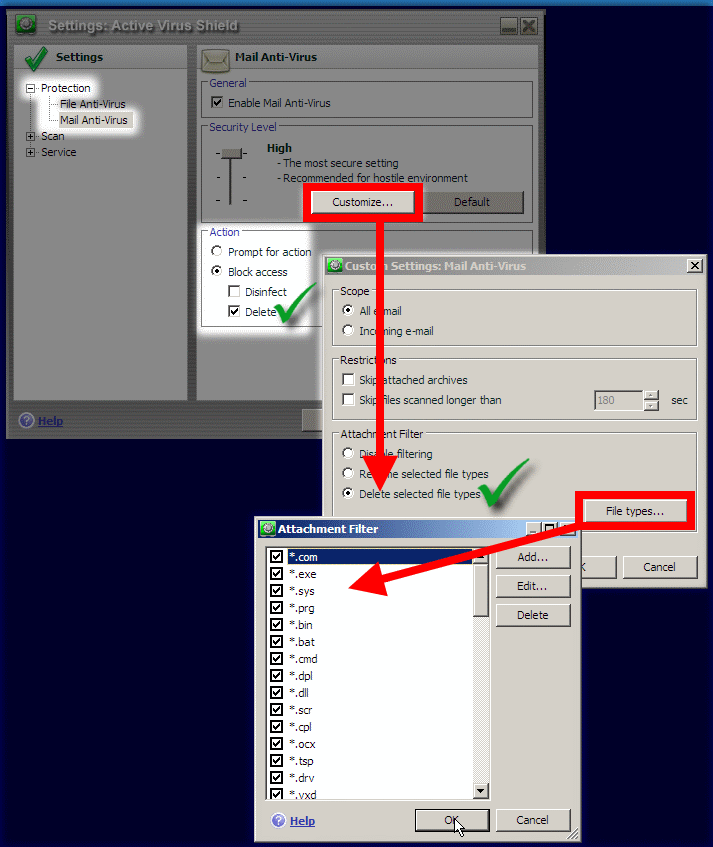 Mark all the boxes, then unmark the boxes for what you know you want to allow, such as .JPG for photographs, .DOC for documents, etc. I also recommend adding .ZIP and blocking it, since ZIP files are very commonly used by email worms. If Kaspersky deletes a file that you really need, you can recover it from Kaspersky's Backup.
Antivirus protection is only one part of computer security. Use a router and your Windows Firewall (or another software firewall), and see these security tips too.
---
---
---